Aloha everyone!

I must say that I quickly got back into the island spirit and my feet haven't seen shoes since last Friday, but they probably will today since sweetie and I are planning a hike up to Jackass Ginger. Then again, the trail is pretty easy, and when I have to cross streams, I may want to be able to do it barefoot. I must remember to spray down with mosquito repellant. I've got at least a dozen bites on my legs right now. Like all critters, mosquitos love me.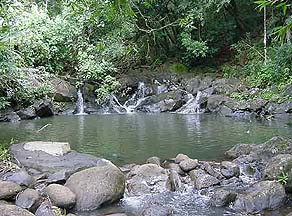 More updates on the flip side...

Tuesday...still on Kaua'i

We checked out at 10 am, and headed back into Lihue, making some shopping stops along the way. Mom got a shell hanging thingie for her lanai, we got all kinds of goodies at the Red Dirt Shirt stoah. We got the Kamaaina discount since Mom and George live in Hawaii. We told the cashier that we were Castle grads and she told us she graduated from Farrington. She said, "Castle is da bomb. They had all the cute guys."

Lunch was at a little Mexican restaurant, where this young man seemed to be running the place. He bussed, served chips, water, and seated guests.



Oh, and the food was very, very good. It's a little far to go when we need a Mexican food fix, but we'll keep it in mind for the next trip.

We finally made it to the Kaua'i Museum. One of the things I learned there, and felt silly that I had not learned it earlier, instead buying into the local lore that Menehune were some sort of fairies, was that the Menehune were a real people and responsible for the construction of most, if not all, of the ancient irrigation systems on Kaua'i.

I picked up a book originally published in 1897 and written by Hawai'i's last monarch, Queen Liliuokalani. I have always been fascinated with her, and the book is very interesting.



Don't let anyone ever tell you that the U.S. has never invaded a sovereign nation before. We did it in Hawaii.

We headed for the airport and landed on O'ahu around 6ish. I headed for bed early.

Wednesday...the search for salt water

Yay, finally sweetie and I were on our own! We jumped in the car, made a quick stop for water, soda and some snacks and headed for Mokapu'u, but sweetie got one look at the break of the waves and said, "Nah." So I suggested we head for Lanikai in Kailua. No waves for body surfing but there was some sand for lying in, and ocean for swimming in. The beach has pretty much eroded away, so most people were either on the grass or just past it. Still, it was lovely and we spent about two hours there. We had guest pigeons mooching Cheezits from us, and nestling into the sand and waiting patiently in between throws as though they were our guardians.



On to the Pali Lookout, always a favorite of tourists. It was at the Pali Lookout that Kamehameha I won the decisive battle that finally united the islands under one monarch. Today, the it is just known as the windiest spot on the island and provides a spectacular view of the windward side of the island, specifically Kaneohe, where sweetie and I went to high school.



On the drive up we waxed nostalgic about hiking to Jackass Ginger and perhaps hit some other trails while we are here, so we headed over to Ala Moana Center for som'grinds (food) and to find a book of hiking trails. Mission accomplished on both counts and I stopped at the Aveda store for some moisturizer too.

By then we were pooped and sweetie, who is not as familiar with the streets as I am, finally relinquished the steering wheel to me (whee!) and we headed back to home base.

I leave you with a picture taken of sweetie and me at the Waimea Canyon on Kaua'i...Day One.



Note: my legs are tanning up nicely since this pic was taken. And, I haven't been in those shoes since I pulled them off at the time-share.

[+/-] Moa talk story/Aloha